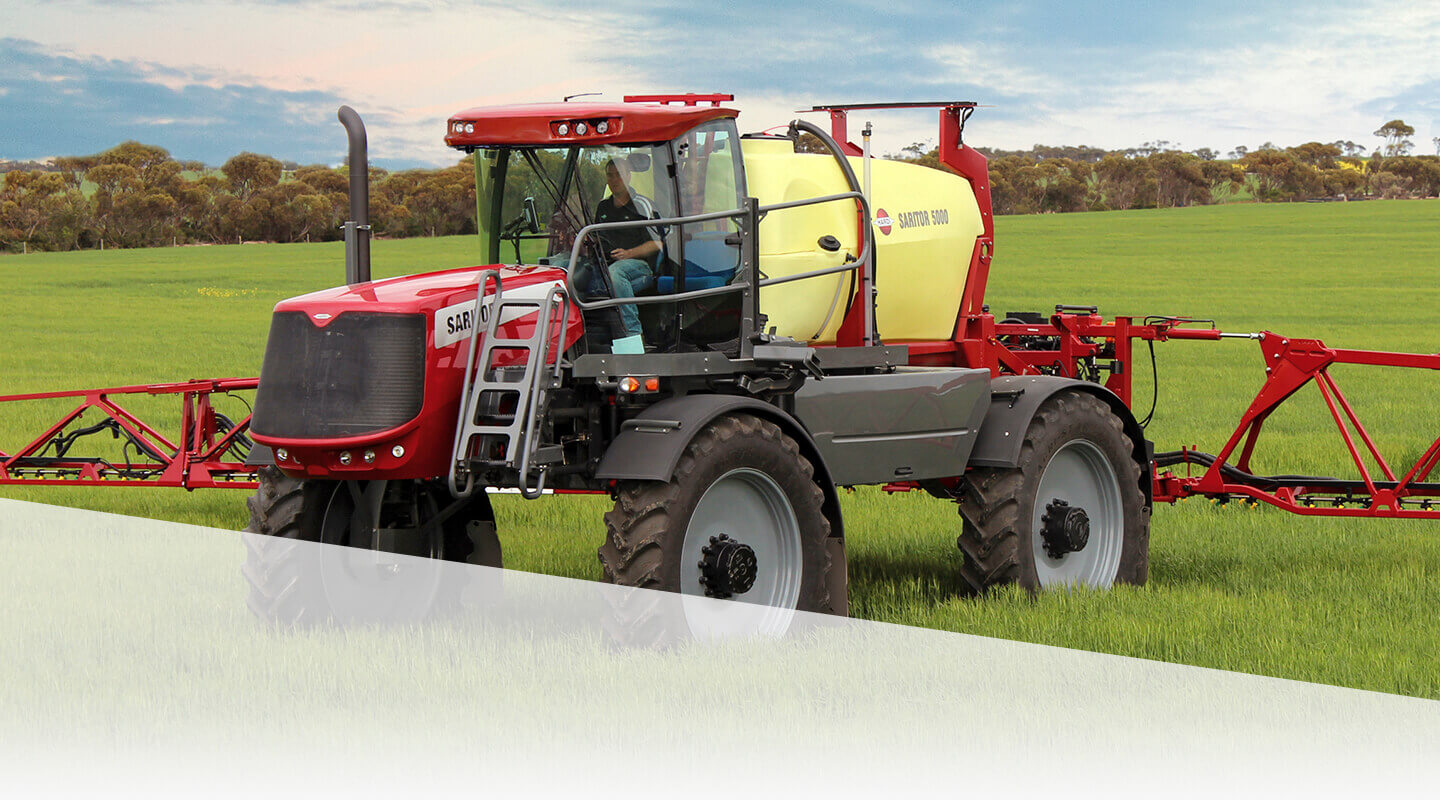 SARITOR
Tank Capacity
1,300 gal. (5000 ltrs)
Boom Width
TERRA 1,300 gal. (5000 ltrs) / ALU 120 - 132 ft. (36.6 - 40 m)
Boom Types
TERRA FORCE / ALU FORCE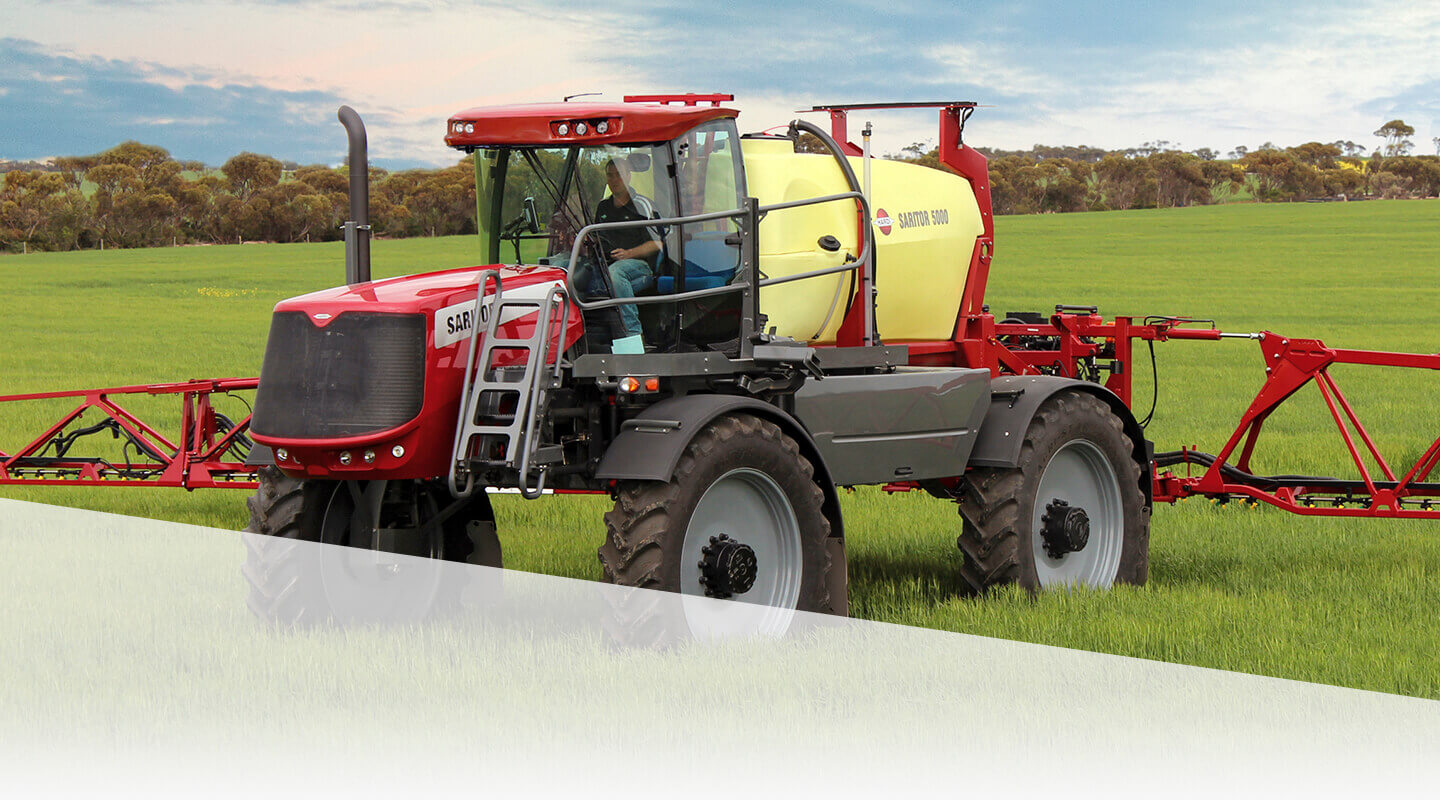 Tank Capacity
1,300 gal. (5000 ltrs)
Boom Width
TERRA 1,300 gal. (5000 ltrs) / ALU 120 - 132 ft. (36.6 - 40 m)
Boom Types
TERRA FORCE / ALU FORCE
Core strength
The chassis is made from high tensile steel (DOMEX® Swedish steel) to provide low weight, strength and flexibility. The U shape chassis rails with bolted cross members are a technology derived from the heavy vehicles industry and offer incredible flexibility.
All the main components like engine, main tank, RinseTank, pump etc. have been placed to optimize the weight distribution between front and rear axles.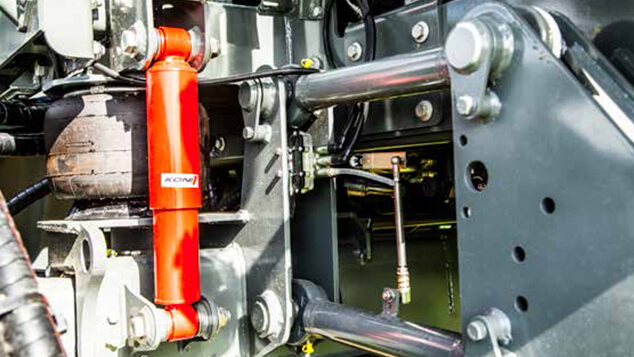 Suspension
Auto level air ride suspension combined with the flexible high strength chassis delivers an enviable ride for the operator.
Front axle suspension
Independent ride level air bag suspension with two heavy-duty shock absorbers provides exceptional ride and performance.
Rear axle suspension
The heavy-duty trailing link-arm suspended rear axle is equipped with independent air bag suspension for smooth ride and performance.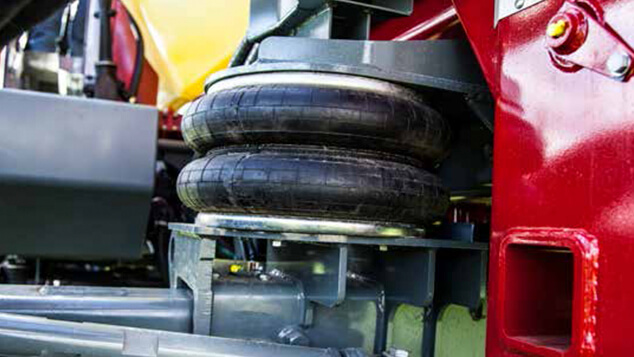 Axle track width
Quick and easy hydraulic track width adjustment for on road transport or in field operation.
On-the-go adjustment
Individual 9.8 - 12 ft. adjustable axles suit a variety of row crop applications and provides enhancing boom stability.
Powerful
A hydraulic cylinder is protected inside each axle and provides smooth and immediate adjustment.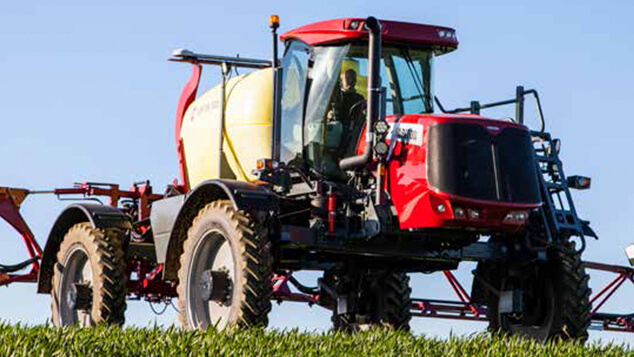 4-wheel drive / 2-wheel steering
The 4WD hydrostatic transmissions are optimised for electro-hydraulic control and are coupled to intelligent electronics using the Sauer graphics terminal DP 250.
The intelligent electronics are integrated into the Cummins "CAN" communication platform to ensure the engine power is optimised to the wheel motor torque which delivers smooth performance.
The wheel motor output is matched to the engine torque, optimising fuel efficiency and the transmission operating pressure.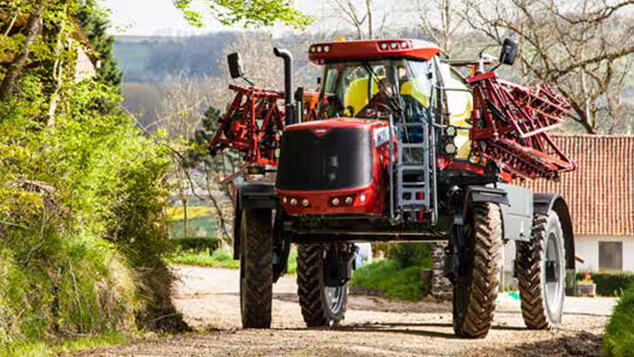 Turning circle
The SARITOR is ideal in broadacre and row crop applications. With a turning circle of 67 ft. curb to curb with the largest tires the SARITOR is designed to have the best turning radius possible to prevent crop damage in the headlands.
The turning radius of 21.4 ft. is measured to the center of the inner wheel at 14.1 ft. track width.
The wheel base of the SARITOR is 13.8 ft. ensuring a stable platform when spraying in rough terrain.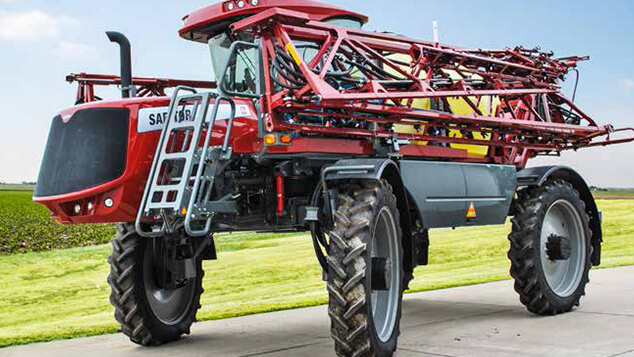 Surface treatment
The chassis, the boom and all other steel parts have been pre-treated with Oxsilan followed by a high-quality coating of powder paint.
This treatment provides outstanding protection against corrosion from both chemicals and harsh weather conditions.
The high-technology surface treatment contains 13 treatments, including an Oxsilan pre-treatment and powder coat painting of all major components.
Together with the Delta/Magni treatment of nuts, bolts and other items, we supply high corrosion protection of our products.