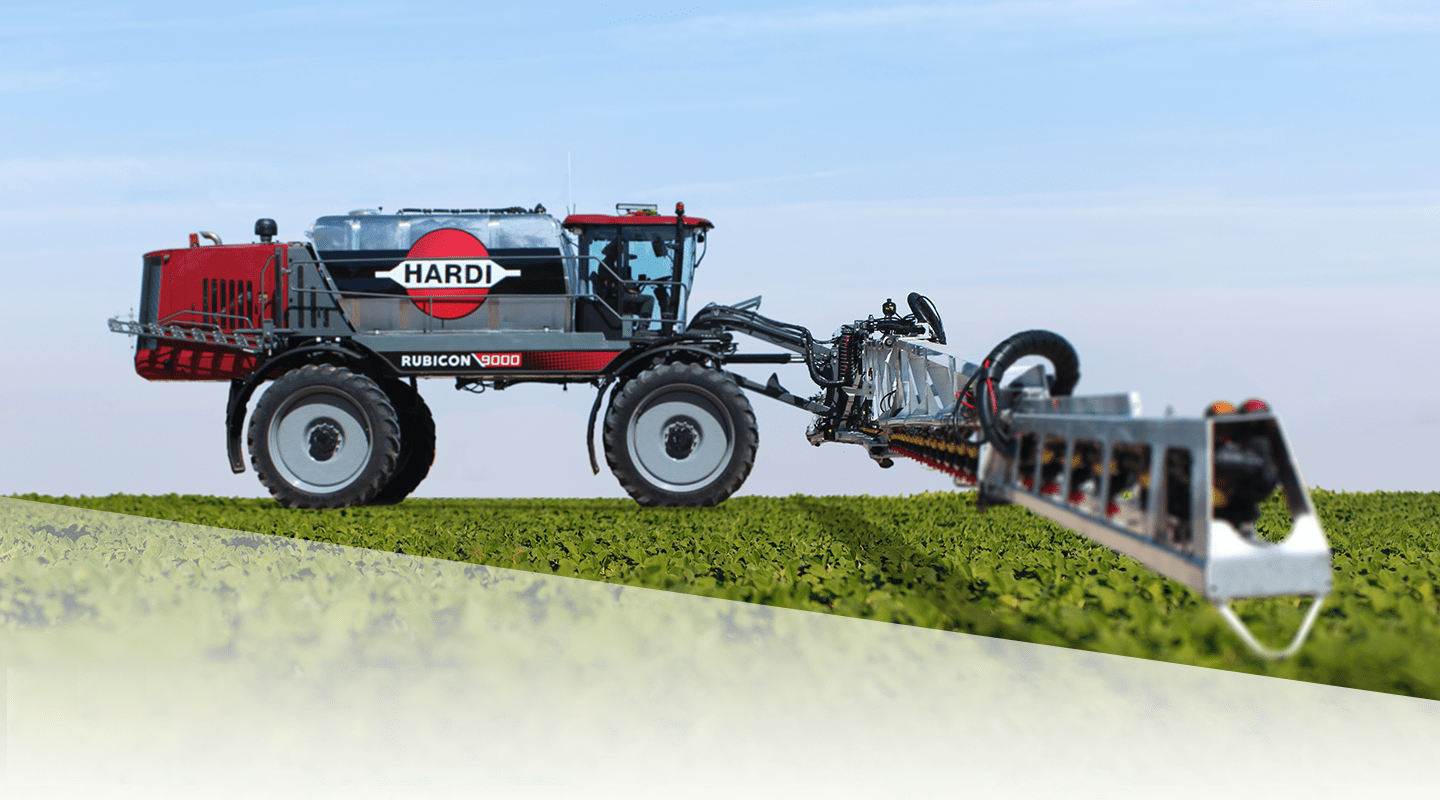 RUBICON
Tank Capacity
2,200 gal. (9,000 ltrs)
Boom Width
120 up to 160 ft. (24 up to 52 m)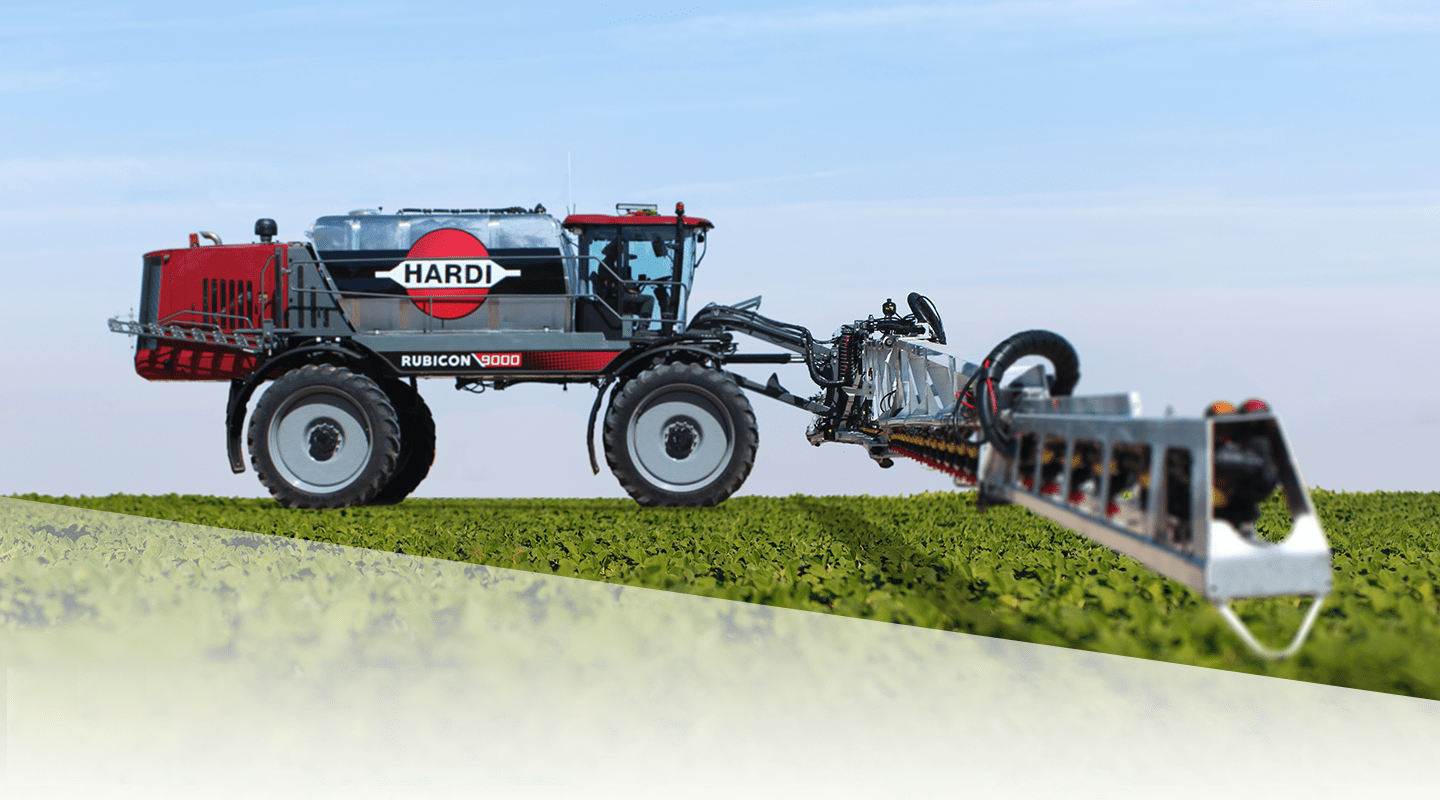 Tank Capacity
2,200 gal. (9,000 ltrs)
Boom Width
120 up to 160 ft. (24 up to 52 m)
The right side of the RUBICON houses the fluid pumps, control valves and the electronic valve sequencing control panel.
The fluid systems efficient design minimizes the volume remaining once the tank is emptied, which makes rinsing and decontaminating fast and efficient.
The fluid is driven by an ACE 650 run-dry Centrifugal wet seal run dry centrifugal spray pump which is controlled by a hydraulic Pulse Width Modulation (PWM) valve to adjust the output.
A 2.9 in. hydraulically operated rotary valve controls the suction source from the main tank or the rinse tank or an external supply.
On the pressure side a similar 1.9 in. hydraulically operated rotary valve controls the supply to the boom recirculation system & nozzles, to the chemical filler, to the main tank or for pressure empty.
A dedicated hydraulic driven 21.6 gpm diaphragm pump with electric rotary control valve is used exclusively for clean water supply for the main tank, rinse nozzles, priming Ace pump or hand gun.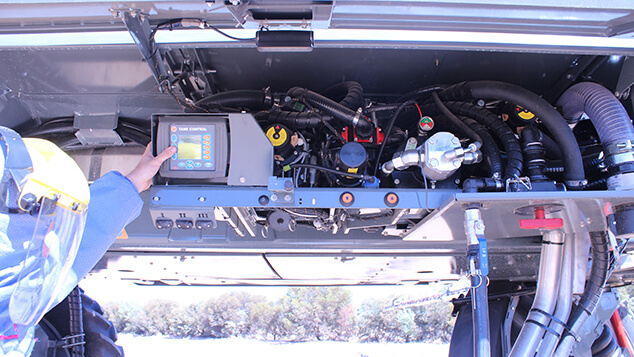 The simple to operate electronic ground station control panel functions are duplicated in the cab and are used to sequence the rotary valves for suction, pressure and clean water supply. The correct operating positions are performed automatically and at the touch of a button.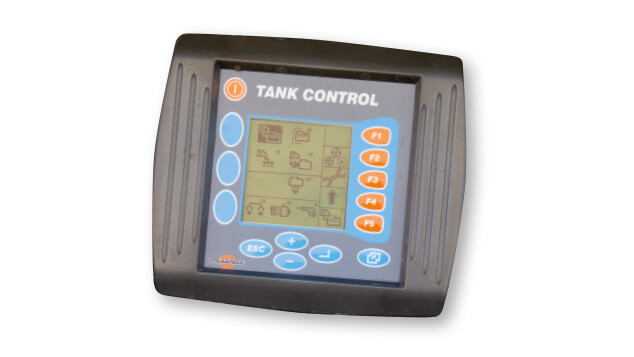 Designed to make loading safe, quick and easy, the combined mixing and transfer station is hydraulically lowered into position for refilling
The filling station is a robust stainless steel construction and includes the Chemical Hopper, Direct Chemical Suction connection, Fast Fill connection, optional Multi-Stage Fast Fill Pump and Hand Gun.
For safe connection and working the 15.9 gal. hopper is 27.5 in. above the ground when lowered into position. When folded away the entire work station is tucked out of the way under the right hand side panel.
Chemical can be suck directly into the RUBICON or mixed through the hopper and transferred.
Batch mixes can be pumped directly into the tank or the system can be programmed through the electronic valve sequencing control panel to suck in a given volume.